FSoE-Slave Stack
The intelligent safety-solution with EtherCAT(R)
ISH FSoE-Slave Stack
The highly compact and efficient implemetation of the FSoE Slave Stack allows the integration into very small and cost-efficient hardware sturctures and is characterized by its high performance runtime behaviour.
The link to existing EtherCat structures can easily be realized due to the defined interface structures of the Stack.
The implementation is supplied as source code. There aren`t any further requirements to the hardware platform. By using the original sources an at compliance or implementation with the requirements of the supplied integration-guide no further steps aproval by a notified body are necessary.
A single-channel integration is also possible (for e.g. SIL2).
Competence in Safety
The faster way to your safety compliant product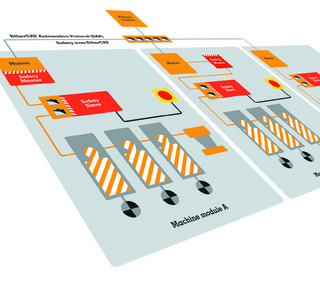 Main features:
Designed according to IEC 61508 for use in applications up to SIL3
Pre-certified as Compliant Item by TUV Rheinland
The Stack works without an operation system and has no special requirements on the development environment
Serveral I/O instances of a destined hardware can be managed by only one stack
No size restrictions with the usable process image
Simple integration based on the corresponding guide allows direct implementation of requirements.
Optionally there are unit tests available, but only required with code-modifications
Designed according to FSoE specification ETG.5100 S (D) and IEC 61784-3 V1.2.0
Interfaces for the implementation of the FSoE conformance testing
We also offer training courses for a quick start into your project. Even with further specification and integration, we are pleased to advice you.
As an expert in development of safety-related electronic products according to DIN EN ISO 13894, DIN EN 62061 and IEC 61508, we support you in all stages of development of your product and accompany you up to the examinations and tests. For a short-term project start, we also offer safety evaluation hardware with variable fieldbus-interfaces.
Our FSoE master Stack is currently in development process and will be available soon.
Downloads